Turning MongoDB Into a Search Engine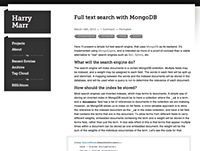 I know you all think I am only going to post about Ruby and MongoDB so I have decided to shock you with a Pythong post. Yes, that typo was intentional. I always refer to Pythong as Pythong.
Anyway, recently, Harry Marr wrote up some thoughts on how to use MongoDB as a full text search engine.
The post was a fun read and the code is also up on Github. Enjoy all you pythongistas out there!