Reflections on MongoDB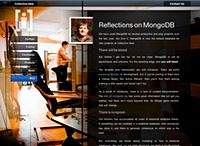 My good friend, Brandon Keepers, just took some time out of his day to chronicle his reflections on MongoDB. The post is more of an overview and probably most interesting for those that are not heavily using MongoDB, but worth a read either way.
In the article, Brandon states that MongoDB is now the default database for new projects at Collective Idea. He also brings up a good point about design verse usage. He states that we rarely consider how the data will be used when designing relational databases. With MongoDB, however, the exact opposite is true.
Figure out how the data will be used, then figure out how to structure it.
My favorite quote from the article was:
There is a distinct moment of epiphany when you realize that you don't have to create a separate collection just to store repeating phone numbers, or add a join table to associate an article with multiple categories.
Could not agree more. Be sure to check out the full article for more.